Recording Day 1
After months of fund-raising and preparation the choir arrived at the chosen recording venue, the majestic Victorian Gothic Church St John the Evangelist in Upper Norwood. It was a wonderful day and we are confident that the recording will reflect the months of hard work and dedication shown by all the members of the choir, the tireless efforts of Clive and Leanne Osgood, the Committee's numbers experts and of course our wonderful Chairman and Music Director. We are looking forward to the second recording day on 13th October when we will be joined by the London Mozart Players.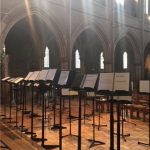 There is still time to become involved if you are not already. Please see the Recording Sponsorship page for full details of how you can help us raise funds to support the CD launch concert which will take place in the first half of next year – the date is still to be confirmed but we will keep you updated here and on our facebook page.
About the Choir
The Excelsis chamber choir is a group of about 30 singers, many with a background of musical training, under the baton of Music Director Robert Lewis. The choir performs a wide variety of music to a very high standard, and performed the opening concert of the Grayshott Concerts' 2017 season with the London Mozart Players, conducted by Robert Lewis.
In 2015 Excelsis performed the world premiere of Karl Jenkins' latest work, The Healer – A Cantata for St Luke, with the Marylebone Camerata. The Healer was commissioned by Grayshott Concerts to celebrate the organisation's 10th anniversary. Following the success of The Healer project, the choir was invited by Sir Karl to sing in a performance of The Armed Man with the Welsh choir, Cor Caedydd, and the BBC National Orchestra of Wales at St. David's Hall, Cardiff. Both performances were broadcast on national radio, The Healer on Classic FM and The Armed Man on BBC Radio 3.
2015 saw our debut concert with the London Mozart Players. We also had the honour of becoming the Choir-in-Residence for Grayshott concerts in recognition of the many performances that the choir has done over the years for the audiences of Grayshott Concerts. WE are delighted that the Londond Mozart Players will be accompanying us for the recording.