DIRECTOR OF MUSIC – Robert Lewis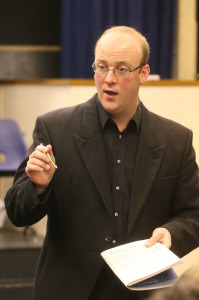 Robert Lewis is a conductor, performer and educator. Born in Cardiff, he began his musical training as a chorister at Westminster Cathedral under the direction of David Hill and James O'Donnell and later won a choral scholarship to the Oratory School and New College, Oxford, where he read Music.
Robert is the co-founder of Excelsis and has been its Director of Music since its inception in 2007. Since this time, the choir has earned a reputation for excellence, both locally and further afield, and has performed with some of the country's leading musicians. In 2013, the choir gave its debut performance at the Royal Albert Hall with Karl Jenkins and, in October 2014, will perform the world premiere of his new work 'The Healer' which will be broadcast on Classic FM.
Robert specialises in developing choirs and voices of all ages. He founded his first choir at the tender age of 16 and a few years later was conducting regularly for concerts, radio and television broadcasts. He has worked with such artists as Sir Charles Mackerras, David Hill, Karl Jenkins, the Marylebone Camerata and James Bowman. Other engagements this year include conducting Mozart's Requiem with The London Mozart Players and 'Excelsis', concerts at St. George's, Hanover Square and Charterhouse school and tours to Europe.
As a singer, Robert has made over 25 recordings and toured numerous countries. He is also Director of Music of Grayshott Concerts and spent seven years as Head of Music at St. Edmund's in Hindhead where his music department received acclaim as 'outstanding' by the schools inspectorate and whose choirs reached the televised finals of the Songs of Praise Choir of the Year competition and sang for His Holiness, Pope Benedict XVI, in a televised performance in front of 40,000 people.
Robert directs several other musical groups including the choirs of St. Thomas-on-The Bourne Farnham, with whom he has released the CD 'On Christmas Night' and recorded the soundtrack for the Channel 4 drama 'New Worlds'. The choir recently performed to packed out concert venues in Prague. Robert is also conductor for the 'Vox' chamber choir in Farnham.