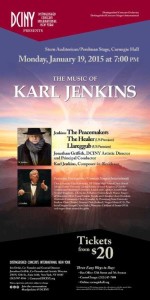 Following the World premiere performance of The Healer, several members of Excelsis will be travelling to New York in January 2015 to perform in the US Premiere of the work. The Concert is part of the DCINY concert series to mark Martin Luther King Jr Day on Monday 19 January 2015 and will mark Excelsis' debut performance at Carnegie Hall.
Karl Jenkins will be Composer-in-Residence for the weekend of rehearsals, with Dr Jonathan Griffith, DCINY Artistic Director and Principal Conductor, leading the Distinguished Concerts Orchestra and Distinguished Concerts Singers International.  Lucy Knight (soprano), who sang at the World Premiere at St Luke's Grayshott in October 2014, will also take to the stage with Mark Watson (Baritone).
Peter and Vivien Harrison, of Grayshott Concerts, will also be present at the US Premiere, which marks the first international performance of the work that they commissioned from Karl Jenkins to mark Grayshott Concerts' 10th Anniversary.
Further information is available at:  www.dciny.org