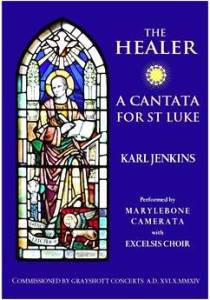 Excelsis will be performing a new work By Karl Jenkins commissioned by Grayshott Concerts to celebrate its 10th Anniversary.  The new work The Healer – a cantata for St Luke is written for soprano, baritone, mixed chorus, oboe/cor anglais, strings and percussion.
Karl Jenkins describes how "The Healer is a Cantata for St Luke, an evangelist and physician of the soul. The text deals with healing, not only in the Christian and spiritual sense, but also with secular issues such as the 'healing' of our planet, Earth. In addition to setting parts of St Luke's Gospel there are extracts from the Book of Common Prayer, a poem by William Blake, and contributions especially written for this work by Terry Waite CBE, Vivien Harrison and Carol Barratt. The text was researched and collated by Carol with guidance from Father Tim Ardouin of Llanrhidian Church, Gower."
Excelsis will be performing with the Marylebone Camerata, soloists Lucy Knights(soprano), Hakan Vramsmo (baritone), Rosie Jenkins (oboe & cor anglais) and Zands Duggan  (percussion), conducted by the composer in person.
In the all Jenkins' concert, other works to be sung by Excelsis include the Benedictus from The Armed Man and the Te Deum, which will be conducted by our Director Of Music Robert Lewis.
The concert will also be recorded for broadcast by Classic FM on Tuesday 28 October 2014 at 8pm.